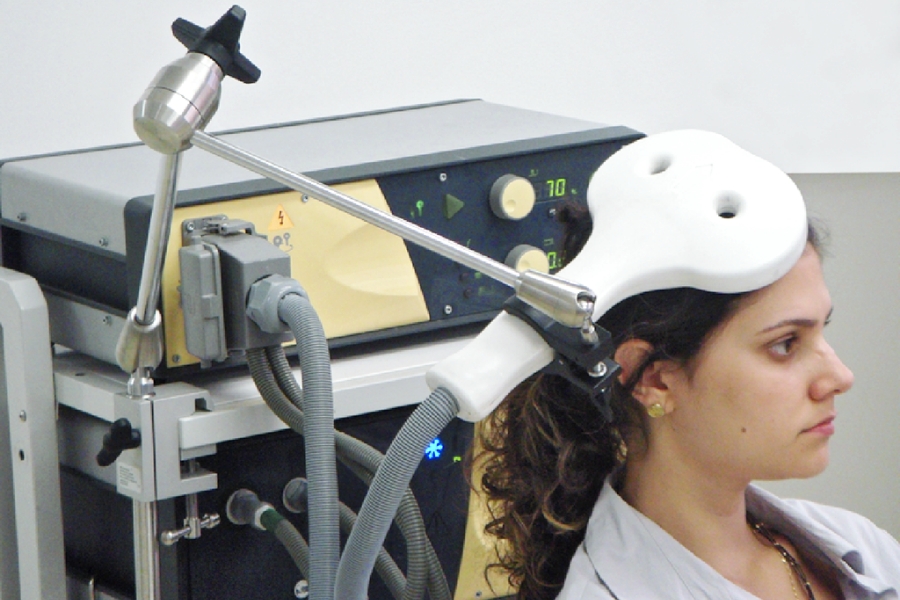 Transcranial Magnetic Stimulation
Connecticut Behavioral Health Associate's mission is to create a world-class Transcranial Magnetic Stimulation (TMS) treatment program that sets the standard of excellence in the treatment of chronic depression. We aspire to provide a setting where people receive care that enables them to regain hope and direction in a supportive, caring and compassionate environment.
TMS is a non-invasive method of brain stimulation that treats depression right at the source with a magnetic pulse. The magnetic pulses help to activate the natural function of the brain's neurotransmitters.
What to Expect
TMS is an in-office treatment that requires no anesthesia or sedation
You are awake and alert during the treatment and can resume normal activities immediately afterwards
Each treatment is about 37 minutes
Therapy is 5 days a week for 6-9 weeks
The only known side effect is a minor headache or irritation at the treatment site, which will subside after the first few treatments
TMS is FDA approved for the treatment of Major Depressive Disorder in clients who have failed to receive satisfactory improvement from prior antidepressant medication and psychotherapy trials. Below are the following guidelines for insurance coverage;
Must be over the age of 18 years old
Must have tried four or more antidepressants
Must have tried two or more augmenting agents
Must have tried psychotherapy
CBHA Client Testimonials
"Rarely do I get feelings of depression. The headaches associated with my depression have stopped. I have interest in doing things, I am about to make a major move, something I would have never attempted when my depression was worse. I feel good, like I did years ago before depression overwhelmed my life. Thank God for TMS!"
– Anonymous
"I have been treated for depression for 35-40 years. It has been 15 months since my miracle of TMS, I have a whole new life! I am awakened from the dark – since my childhood I was miserable, to now a wonderful outlook mentally! New music, friends, socialization and much more. Thank you to all at CBHA"
– Kathleen
"Talking with the technician through the session helped it go by so fast. The technician always took time to check more than once and make sure I was doing okay. I highly recommend this treatment – it helped me with my depression tremendously."
– Beverly
"Off Label" TMS Therapy
There is overwhelming scientific evidence that TMS Therapy is being successfully used to treat a wide range of other mental disorders and illnesses globally, that are not currently approved by insurance. The following illnesses can be treated with TMS and are considered "Off Label"
ADD/ADHD
Anxiety
Bipolar
Chronic Pain
Eating Disorders
Migraines
OCD
Panic Disorder
PTSD
Substance Abuse
Don't discount TMS as a viable treatment option for yourself or loved one, even if you do not have insurance or meet requirements. CBHA offers affordable payment options and a sliding fee scale.
How to Refer a Client
Self Referrals
If you are a client, family member or Licensed Professional who is seeking to refer a client for out-patient TMS therapy, you can do so by;
Calling the following extension TMS EXT. 253
Email us at intake@cbhapc.com
Professional Referrals
If you wish to refer a client to CBHA's TMS program or your are affiliated with an In-Patient or Intensive Out-Patient Facility, Hospital or Rehab, we require that you submit the following information three business days prior to client discharge to facilitate client appropriateness and coordination of care:
Client Demographic Information
History and Physical
Psychiatric medication/therapy history
Discharge Summary
Completed CBHA Referral Form
​Fax the following information to (860) 823-1170